Although there seems to have been a craze for opera composition in Australia in the late nineteenth century, with more than thirty composed between 1880 and 1900, in the following decades only a few composers attempted it, and mainly those associated with conservatoriums. PGH was in fact one of a select few Australian-born composers who completed an opera between 1900 and 1939.
Among the earliest twentieth-century opera composers in Australia were several English-born men and women: G.W.L. Marshall-Hall and Florence Ewart in Melbourne and W. Arundell Orchard, later director of the Sydney Conservatorium, in Sydney. Ewart, although originally a prodigy on the violin, studied composition with Respighi in the 1920s and subsequently composed The Courtship of Miles Standish in 1931 and Nala's Wedding in 1933. Fritz Hart, the most prolific composer of operas in the country, director of the Melba Conservatorium and PGH's composition teacher, was also born in England. Possibly at work on Isolt of the White Hands while Glanville-Hicks was studying with him, he left Melbourne for Hawaii soon after, having added fourteen operas to the list of all those composed in Australia. Below is Christian Waller's poster for the production of Hart's romantic comedy Pierrette (1913) in Melbourne in 1931, which involved Glanville-Hicks and her fellow students at the Melba Conservatorium.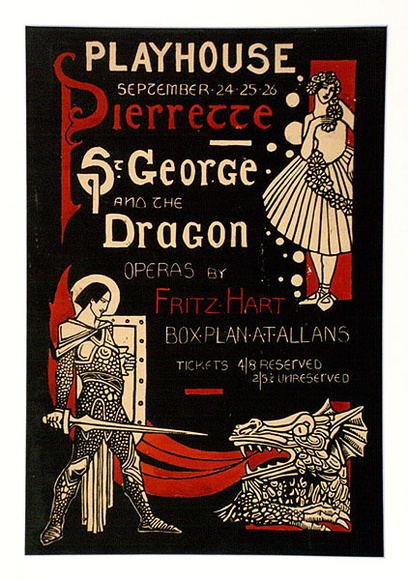 Alfred Hill, born in Melbourne, had already composed seven operas before the foundation of the Sydney Conservatorium in 1915, where he remained as composition teacher for the remainder of his career. He composed another two in the 1920s but otherwise the mantle then passed to his student John Antill, whose Auster was composed in 1922, when he was eighteen. From 1915, in Adelaide, Hooper Brewster-Jones produced six operas, among them Deirdre of the Sorrows in 1915 (the year before Hart's opera of the same name) and Ondine in 1918. The last of them was The Nightingale and the Rose (1926). In Melbourne, Marshall-Hall's student Mona McBurney composed The Dalmation in 1910, the year of the performance of Marshall-Hall's most successful opera, Stella. After Marshall-Hall's death in 1915, only Hart, Ewart and the native-born University Conservatorium student Clive Douglas were composing operas in Melbourne. Douglas won an ABC prize for his opera Ashmadai in 1935, the year after graduation.
By 1932 Glanville-Hicks was living in London as a student, and from 1933 she was studying with Vaughan Williams. The most successful Australian-born composers of opera then in London were George Clutsam, whose operas had been performed in London, Leipzig and Berlin before 1918, and the Royal College of Music piano teacher Arthur Benjamin, whose comic opera Prima Donna was completed in 1933 but not performed until 1949. Glanville-Hicks's first opera, Caedmon (1935–36), was thus not the first opera to be composed by an Australian woman, but placed her among only a few Australian-born composers of the genre. She later alleged that it had been performed in England by a touring company, perhaps just before the war when she was associated with the ballet company Les Trois Arts. After the war, only Florence Ewart, James Penberthy and John Antill were still active as opera composers in Australia when Glanville-Hicks's The Transposed Heads was performed in Louisville in 1954. By then of course she was an American composer.